On Site Training
If you're scheduling training for more than 5 or 6 people at your facility, you should consider on site training. This focused, cost-effective training option can save you 25-30% or more compared to individual tuition prices. Training at your facility allows us to zero in on your specific requirements and, since we own our courseware, there is no extra charge for curriculum adjustments. On site training is available worldwide.
Group Training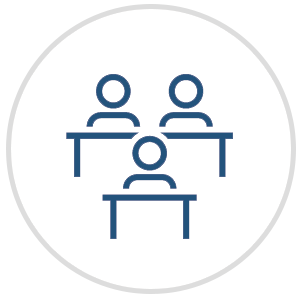 If you have a large group to train, we can split them up to save you headaches. Schedule the date you want for training at your site. If some of your people can't make it, they can attend the same class as a public seminar. This allows you to avoid pulling all of your critical personnel out of production at the same time. Extra cost? Usually none! It's your choice. No company offers training in more cities. So you don't need to train all of your staff at once to save. You may even be able to avoid flying people in from remote facilities if they can attend a public class near their own site, thereby cutting travel expenses even further.
To receive a FREE on site training proposal, follow these steps:
Choose the class you're interested in from our course listings. See below.
Estimate the number of students you'd like to train as well as some preferred training dates.
Call us at

800-413-0939

to speak with one of our training directors, or simply complete our online request form.
Microsoft Certified Partner
Hands On Technology Transfer is a Microsoft Certified Partner. Upon request, we can provide any course in the Microsoft Official Curriculum (MOC) to meet your on-site training needs. Please contact HOTT's Client Relations Manager for details.
Introduction to Programming
Object Oriented Analysis and Design
Java/Java EE™, EJB, JPA, Spring, Hibernate, TDD
Java Fundamentals
JEE and Frameworks
TDD
Web Development (HTML, HTML5, jQuery, JavaScript, AngularJS, Perl, PHP)
HTML5 and JavaScript
HTML5 and jQuery
AngularJS
Perl and PHP
Python Programming
XML Programming
.NET Programming
ASP.NET Web Forms Programming
ASP.NET MVC Programming
Windows Forms Programming
Windows Presentation Foundation
WCF Programming
Advanced .NET Programming
Test Driven Development (TDD)
Android Programming
iOS/OS X Programming
jQuery
SharePoint Administration and Development
Project Management
Test Driven Development (TDD)
SQL Programming and Database Design
Microsoft SQL Server Administration and Development
SQL Server 2014
SQL Server 2012
Windows Administration (Windows 2012 Administration, Active Directory, Exchange)
Windows 2012
Exchange Server
UNIX/Linux, Shell Programming
C Programming, C++ Programming
Visual Basic 6.0
Microsoft Office
Oracle and Java are registered trademarks of Oracle and/or its affiliates. Other names may be trademarks of their respective owners.
iPad® and iPhone® are trademarks of Apple Inc., registered in the U.S. and other countries.
Android is a trademark of Google Inc.