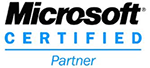 Course Description: This course provides students with hands on experience using Visual Studio to create dynamic web sites with the ASP.NET 4.0 Framework using VB.NET. Students learn how to leverage the power of the .NET Framework to build web user interfaces. Students will learn how to build ASP.NET Web Form applications and work with a variety of ASP.NET controls, including validation controls and user controls. Students explore why state management is difficult within web sites and learn many different ASP.NET techniques for managing state, including application, session and view state objects.
Students also learn how to use ADO.NET to interact with databases and XML files. Students learn how ASP.NET uses data binding to display data in controls such as the GridView and ListView. The course also presents differences in functionality and tools utilized in versions 4.0 and 4.5 of the .NET framework.
Other topics include: using a Web.config file to control application configuration; using master pages to provide a consistent look and feel to a web site; working with cookies; reading and writing files; and deploying ASP.NET applications. Comprehensive labs provide the students with extensive experience creating and deploying dynamic ASP.NET Web Form sites.
This course provides thorough coverage of the use of Web Forms for web sites. Students requiring additional coverage of ASP.NET MVC, WCF, Windows Forms or Windows Presentation Foundation should contact HOTT or refer to HOTT's complete course listing for additional training courses.
Students unfamiliar with the VB.NET language should take the 5-day ASP.NET 4.0 Web Forms Programming Using VB.NET course instead.
Course Prerequisites: Knowledge of fundamental HTML syntax is helpful, but not required. Prior experience with VB.NET is required.