HOTT's Remote Attendance: The Perfect Blend of Personal Attention and Convenience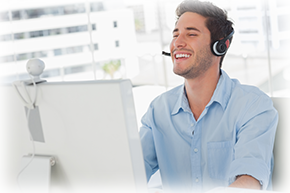 "Online learning" is a catch-all phrase for training which has internet-based components. Online learning ranges from completely automated, self-paced instruction to remote attendance of live instructor-led instruction with little or no automation. Some people remain hesitant to try online learning, since (due to real-time network bandwidth constraints) the original departures from a traditional classroom setting with a teacher and face-to-face students had many problems. In an effort to improve the online learning experience, the best modern providers try to incorporate elements of interactive communication into the online experience, or at least instructor interaction via messaging of some sort. This is commonly termed "blended learning" or "virtual training." However, such virtual training still lacks the social interaction and interactive facilitation that makes live training events the most effective way to learn and retain complex technical topics.
HOTT's implementation of internet-based attendance goes one step further than "virtual training" by fully integrating remote attendees into a live training event with local face-to-face students – providing the social dynamic and high level of real-time interaction that is lacking in fully "virtual" training events. This approach to learning has proven to be highly effective and allows students to have the best of both worlds – the convenience of remote attendance combined with the real-time interaction of live presentations. In addition to driving up retention, the formal structure of live training assures completion rates nearing 100%, which is far above other online learning modalities such as self-paced training or virtual training that is not delivered "live."
As a HOTT remote student you are able to interact during live classroom instruction through remote controlled cameras and full duplex audio. This high level of control allows you to interact during the course as if you are actually in the classroom. Some students liken it to "being in the back row." You can communicate with the instructor and other students in real-time by using a microphone or by sending private messages. The instructor can facilitate your hands on lab work through remote viewing and remote control of your lab machine while you communicate verbally or through instant messaging. This sort of interaction between the instructor and students is what makes face-to-face learning so effective for complex topics. For example, students can ask how to apply new skills in their work, or to clarify and explore points of interest. These kinds of quality interactions with the instructor increase learning retention and understanding of the course material. If desired, your personal remote attendance coordinator can even set up private interaction with a lab partner, with audio isolated from the main classroom and with coordinated access to one computer station.
The structure of HOTT's instructor-led live training virtually guarantees completion of the course. Competence can be tracked and assured via completion of hands-on practice and instructor assessment during class. Since you will have an instructor monitoring your progress, you will receive the same level of facilitation as face-to-face students, enabling you to complete the course on schedule. By contrast, studies have shown that self-paced e-learning dropout rates are high and increase dramatically as the duration of e-learning increases. For instance, a sizable Learning Tree study found that the completion rate for the first three-hour segment of a 25-hour e-learning program was only a little over 70% and dropped further to only 28% of students completing 12 hours of training and only 19% completing the entire 25-hour program. By contrast, virtually all remote attendees complete HOTT's courses (barring illness or other unavoidable absence) since progress is monitored and students receive real-time facilitation.
The combination of quality student guides and robust lab exercises, multiple video feeds from the classroom, and the ability of HOTT instructors to see and react to remote students during class all combine together to allow for a satisfying and effective remote attendance experience. Remote students can use a variety of communication mechanisms, including full-duplex audio to easily and quickly communicate with the instructor and other students. Remote access software enables real-time assistance during hands-on lab exercises. HOTT's perfect blend of personal attention and convenience allows you to get the full benefit of facilitated hands on training.
To read more about our Remote Attendance Option, click here.